Angela Denny
SRS, ABR, MRP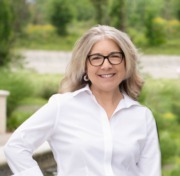 Born and raised in Southern California Angela moved to East Tennessee in 2012 and has never looked back. With a passion for helping people relocate, Angela became one of East Tennessee's most trusted and top-selling real estate agents. She worked with individuals, investors, and developers interested in the city's most coveted properties. Some of her most recent successes have included the coveted, "Platinum Award" Multi-million dollar producer year over year with properties sold but not limited to Luxury homes, single-family residences, and condominiums.
A high-touch Realtor known for her extensive market knowledge and her unmatched devotion to her clients. She has earned their respect by working tirelessly on their behalf and always offering them candid advice. With attention to detail and a passion for perfection, she also utilizes the latest technologies and marketing tools to ensure her client's houses sell at the highest price and in record time.
Testimonials
Angela was absolutely amazing to work with! For my wife and I it was our first time purchasing a home; and we could not have had a better experience as first time home buyers. Angela was very professional, knowledgeable, and attentive throughout the entire process. Some people say buying a home can be one of the most stressful endeavors, thankfully my wife and I did not have to live that reality. I give Angela a gleaming recommendation to anyone in need of an agent in the Knoxville and surrounding areas. Not only is she an amazing agent, she is an amazing person and she will take care of you like family.
Buyer
My husband and I moved from California to Tennessee and it was a big move and stressful. Angela who is also from California and has been in TN for several years. She was able to give me insight on what I was feeling was normal and it takes time to adjust and to take our time. She helped us find a rental before our move so when we arrived we had some place to live. Then when our California house sold we then began our search for our forever home. When we found our forever home she made the purchasing process go smoothly for us. Communication during the buying process was very good. She emailed, text us when we needed to sign papers, set up appointments, etc. If we would ever have to move again, I wouldn't hesitate to have her as our agent again.
Out of state Buyer
Angela has a diverse knowledge of real estate spanning various states throughout the country. I love her business mind and warm personality. I felt like a priority to her as she showed us multiple homes in just two days. She really listened to me as I shared with her our specific wishes for a home for our family. Not only did she help us find our dream home, but she pushed to help us close early. Love the ways she advocated for us! Without a doubt, I will recommend her services to anyone who is looking for a knowledgeable realtor.
Out of state Buyer
If you are looking for a realtor that works their absolute hardest, you found her. Angela will do everything to make sure you get the home you want. She schedules showings immediately after you send her a listing, she is hard working and honest, and she is determined. If we didn't have Angela as our realtor, I know for a fact we would not have our home. She is the best realtor I know and would refer her to everyone!
Buyer
I could not ask for a better experience than dealing with Angela. She's a very caring person, and takes the time to get to know her clients. Angela never gave up on me (even after 2 years of service!). I was treated like family. She always went above and beyond for availability to see homes and properties. Her responsiveness is second to none. I never worried about not receiving a text or call back, which is great because after dealing with other Realtors that was not always the case. All in all she's a amazing person and realtor, I would recommend her to anyone that I know. Thanks for all of your hard work!!
Buyer
More Testimonials